Do you like blog challenges but have a hard time finding a challenge that's all about our furry little animals.
Well the wait is over there is a new challenge blog starting on Sept 3 that's all about the animals.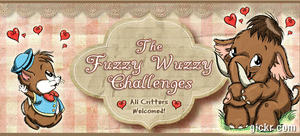 It's called The Fuzzy Wuzzy Challenge (how cute is that name)
Right now you can sign up for some awesome candy there.
Get all the details --- HERE --- on there new blog and become a follower.
Best of luck to you ladies on your new blog and challenges.
I can't wait to play.